types of birds
The Cardinal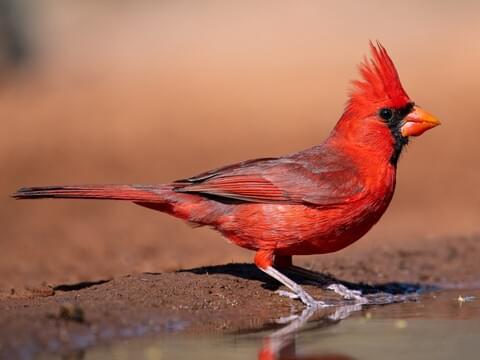 Cardinalidae is a family of New World-endemic passerine birds that consists of cardinals, grosbeaks, and buntings. It also includes several birds such as the tanager-like Piranga and the warbler-like Granatellus.The male Northern Cardinal is perhaps responsible for getting more people to open up a field guide than any other bird. They're a perfect combination of familiarity, conspicuousness, and style: a shade of red you can't take your eyes off. Even the brown females sport a sharp crest and warm red accents. Cardinals don't migrate and they don't molt into a dull plumage, so they're still breathtaking in winter's snowy backyards. In summer, their sweet whistles are one of the first sounds of the morning.
---
Eastern bluebird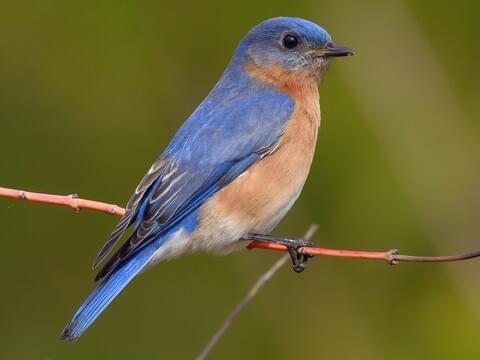 Most of the country drives during an eastern North American summer will turn up a few Eastern Bluebirds sitting on telephone wires or perched atop a nest box, calling out in a short, wavering voice or abruptly dropping to the ground after an insect. Marvelous birds to capture in your binoculars, male Eastern Bluebirds are a brilliant royal blue on the back and head, and warm red-brown on the breast. Blue tinges in the wings and tail give the grayer females an elegant look.You can find Eastern Bluebirds in open country with patchy vegetation and large trees or nest boxes. Meadows, old fields, and golf courses are good places. Bluebirds typically sit in the open on power lines or along fences, with an alert, vertical posture. When they drop to the ground after an insect, they make a show of it, with fluttering wings and a fairly slow approach, followed by a quick return to the perch.
---
American Goldfinch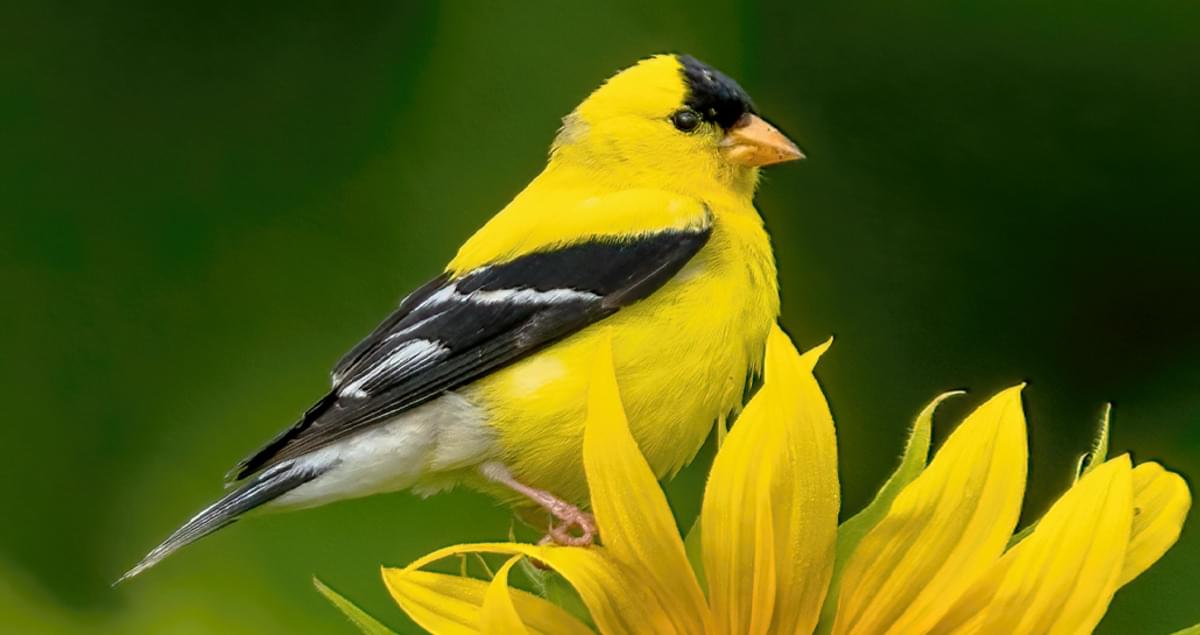 This handsome little finch, the state bird of New Jersey, Iowa, and Washington, is welcome and common at feeders, where it takes primarily sunflower and nyjer. Goldfinches often flock with Pine Siskins and Common Redpolls. Spring males are brilliant yellow and shiny black with a bit of white. Females and all winter birds are more dull but identifiable by their conical bill; pointed, notched tail; wingbars; and lack of streaking. During molts they look bizarrely patchy.Goldfinches are usually easy to find throughout much of North America, except in deep forests. Their po-ta-to-chip flight call is draws attention to them in open country. They're most abundant in areas with thistle plants, and near feeders.
---
White-breasted nuthatch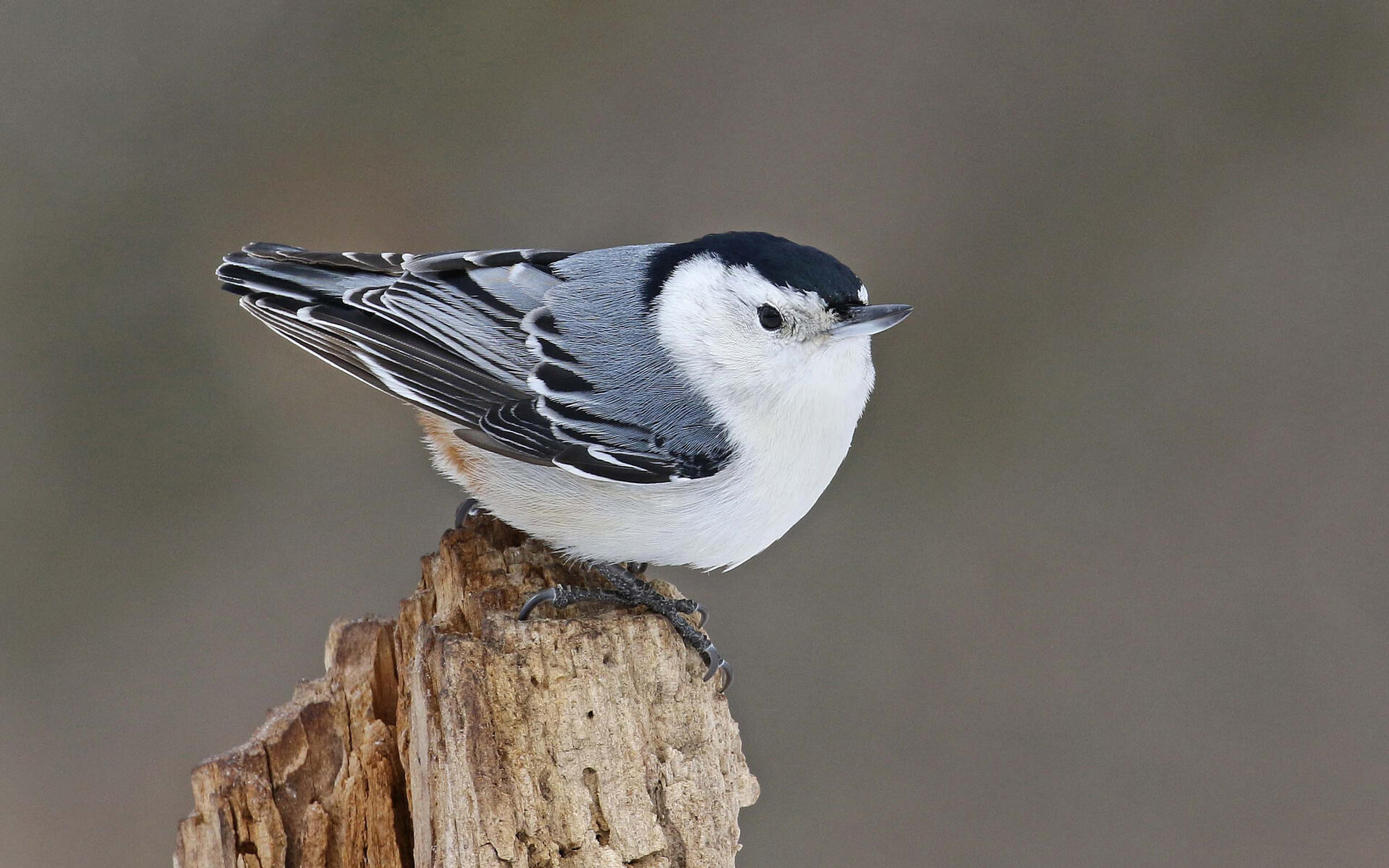 A common feeder bird with clean black, gray, and white markings, White-breasted Nuthatches are active, agile little birds with an appetite for insects and large, meaty seeds. They get their common name from their habit of jamming large nuts and acorns into tree bark, then whacking them with their sharp bill to "hatch" out the seed from the inside. White-breasted Nuthatches may be small but their voices are loud, and often their insistent nasal yammering will lead you right to them.Look for White-breasted Nuthatches along the main branches of large deciduous trees. They'll likely be moving quickly at odd angles to the vertical. In winter you can find them in small flocks of chickadees and titmice; if you see one in a flock keep your eyes out, as there's a good chance the bird's mate is in the flock as well.
Black-capped chickadee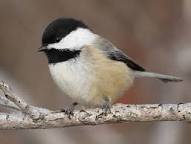 A bird almost universally considered "cute" thanks to its oversized round head, tiny body, and curiosity about everything, including humans. The chickadee's black cap and bib; white cheeks; gray back, wings, and tail; and whitish underside with buffy sides are distinctive. Its habit of investigating people and everything else in its home territory, and quickness to discover bird feeders, make it one of the first birds most people learn.Within their range, Black-capped chickadees are easily seen at many feeding stations, and in virtually any area with trees. They are often heard before they're seen. They're frequently attracted to investigate birders making pishing sounds. Once you've learned this bird's calls, listen for them and then look for the flocks they travel in. Warblers and other migrating songbirds associate with chickadees, and by looking through the chickadees you're more likely to find these other species as well.
---
birds can fly
some are different color
some are dull
there are different birds for different places
some birds are bigger than other
some birds cannot fly
---
©created by Bryce